Honoring and Remembering
Synagogue and School Stories
From Rabbi Gary Spero, Congregation Beth Torah, Torrance, CA:
"You also did something that touched me deeply today. You chose to bring to life the memory of a young girl who was murdered during the Holocaust over 65 years ago and who has nobody to remember that she ever lived. It would have been the most natural thing in the world to let this special day be all about youi and your accomplishments, but you have chosen a different path. You had the name of Gisele Barad called out with your name as you became Bat Mitzvah. For this day all of us here will remember that she was someone's precious little girl and granddaughter and you have undertaken to keep her memory alive on the anniversary of this date throughout your life. Because of you, she will live on in memory as long as you are alive. I have no doubt that when you are a very, very old woman and G–d calls you home as He will each of us, that little Gisele's spirit will be there to give you a smiling hug and kiss for this kindness you have shown her."
A teacher in California writes:
"Your organization was the perfect way for my students to take action in an appropriate and meaningful way. I developed readings and a sermon for them and their guest teacher to present during a Friday night Shabbat service. In addition to the service content, we placed copies of Ina J. Hughes' poem 'A Prayer For All Children' on every other chair. We had a great turn out for the service, and everyone was deeply moved. It was quite a spiritual experience for us all, and I want to thank you and your organization for providing such a meaningful way to address this critical part of our Jewishness."
Linda, an educator and parent wrote:
"The kids really connected to it right away, and I think it gives them something personal in trying to grapple with the Holocaust. I think they will remember these children for a very long time."
An educator writes about Yom Hashoah:
"The Remember Us Project was a big success in our congregation this year. One bar mitzvah dedicated a special song we sang at the service to the child he was remembering. We used the Psalm 23 project as a centerpiece in our congregation's first ever commemoration of Yom HaShoah (in the past we've co-sponsored with another congregation or done nothing). The students were quite serious and engaged, which involved them coming in on the last day of their public school vacation (some came back early from trips in order to be there), and it was also very meaningful to the adults to witness the students' participation."
The art teacher writes about the Painted Prayers project:
"Together we created a ritual act of remembrance so that our grief could be transformed into beauty." Students did paintings based on their connection with Psalm 23, and presented the paintings and their remembered children to the congregation at a service. For the full description of the program, click here.
Emily, a teacher, wrote:
"Our kids really took to it. We have a girl who was bat mitzvah in December. She would like to have a name, if she can do it retroactively."
A teacher's web research
"As a side note, I took one of the names myself last night and did a bit of research to use as an example for our classes. While I fully expected to be piecing a story together that included several guesses about where this child might have been on her journey, I never imagined what came next. I found on the internet a family tree for this child's family that dates back to the early 1800s. The spelling of her name was different, but her parent's names were the same, the dates matched, and there were other parts of the family that had the same village listed, so I'm convinced I found her family. It was an incredible find and quite interesting to peruse. She had several siblings and it looks like her parents and most of her brothers and sisters died in Lublin in 1942, but one or two older ones managed to escape some how. She has other cousins and relatives that did survive, which is how this information got to be posted on the internet I'm sure. I sent an email off to the gentleman who put it all together and hope to hear back from him. He lives in Israel and it looks like the name I have came from his wife's side of the family. It would be quite interesting to get a reply from them. I just thought I would pass that along. I'm very happy to be able to put a story together for one of these children, and while I don't expect everyone to be able to do the same thing, we are at least giving honor to those we can. Thanks again for the work you are doing."
Nancy, religious school director, wrote:
"I would like to tell you about Sarah's participation in the Mitzvah Project – Remember Us.

"At the beginning of her Bat Mitzvah studies Sarah was given the name of a girl who perished in the holocaust before reaching the age of her Bat Mitzvah, Haja Bloch. Throughout her studies Sarah kept this child in her mind. Sarah's Bat Mitzvah is b'shem – in the name of Haja as well as her own. When she chanted Torah today it was also in the name of Haja.

"In addition Sarah read the book "Night," by Elie Weisel, in order to learn more about the world that Haja lived and died in, and she spoke of her in her Dvar Torah today.

"Our tradition allows the Bat Mitzvah to take on the adult responsibility of saying Kaddish, the prayer for a family member or someone you want to remember who has died. Sarah took on the responsibility of saying Kaddish for Haja today and will do so every year on the anniversary of this date.

"In addition, Sarah has pledged a donation to the congregation's Religious School Scholarship Fund in memory of Haja, thus fulfilling the Mitzvah of Tzedakah as well.

"Thank you for providing this inspiring spiritual and educational opportunity for our students at this transformational moment in their lives."
A rabbi/educator wrote:
"Following our previous e-mails, we had a session with our B'nai Mitzvah families last Sunday at which participation in the Remember Us, Holocaust B'nai Mitzvah Project was discussed - and whole-heartedly agreed to.

"At this time we have three boys and one girl approaching Bar-and-Bat Mitzvah. We also have one boy who celebrated his Bar Mitzvah last Chanukah and one other who recently celebrated his Bar Mitzvah - and last December traveled to Poland and to the camps with his mother. They indicated that they, too, would like to receive names as they still involve themselves with our group and also serve as youth mentors.

"I think this is a quite remarkable project, and one which can offer much to our students in terms of existential understanding of the Holocaust. As 'Second Generation' myself, I feel deeply committed."
Return to top
Stories From Children and Parents
From a recent bar/bat mitzvah:
"Although I am an adult, I just recently made my Bat Mitzvah. In honor of my Bat Mitzvah, I would like to remember a child as a mother would."
A bar mitzvah talks about love:
"I didn't know what it meant to love the stranger as myself before I started studying for my bar mitzvah. I hadn't given much thought to how it applied to people I didn't really know. And like most kids I really only had to think about myself. But then I found out about Pinkhas Gabel. Pinkhas was born in 1934 in a town called Myszkow in Poland. His mother's name was Feigel; his father's name was Yaakov. Pinkhas was in Birkenau concentration camp during the Shoah or the Holocaust. I don't know anything more about him since he died there in 1943. He was 9 years old. I became connected with Pinkhas through the Remember Us Holocaust memorial project. Knowing about Pinkhas made me realize how lucky I am just to be alive. Loving Pinkhas as I love myself means that I will celebrate this day in his name, and honor his memory."
A mother writes this after her daughter's bat mitzvah:
"What a life-changing service you provide! Every congregant present was touched by Molly's taking a moment to remember a child we never knew, but now have a relationship with."
The mother of a recent bat mitzvah writes:
"Thank you for this program. I have two more daughters (ages 10 and 5) who will step up to remember."
A young man commits to a fellow congregant's family:
"I also participated in the "Remember Us" program by agreeing to say the Mourner's Kaddish every year on the anniversary of my Bar Mitzvah for the younger brother of a member of my synagogue who was killed in the Holocaust."
From a family that's making connections with living relatives:
My daughter, Eliza Greenberg, memorialized a child at her Bat Mitzvah this past May 30th 2009 at Temple Emanuel in Worcester, Massachusetts. The child's name was Chaja Kramnik. She died in 1943 in Ponary, Poland. Through some research she did on her own, my daughter recently discovered that Chaja had a sibling who survived the Holocaust and, unbelieveably, resided in the same town as us until she died in 1994. We recently contacted the child of that sibling (who would have been Chaja's niece and, amazingly, also lives in our community!) and are making plans to meet face to face. Even before these events, the process of reading Torah for a child who had perished had been a very powerful experience for all of us (my daughter has worn her bracelet every day since her Bat Mitzvah). But now, in light of this recent discovery, the emotions run stronger and everything feels more…for lack of a better word…real.
A parent writes:
"Emily was given the name Michal Abramovitz. While we couldn't find much about her or her family, Emily upholds her memory daily. She was given a quilt as a gift and Michal's name is right beside Emily's. The older people love that she is doing this, and it has given Emily a sense of understanding that she didn't have before. Emily says the mourners kaddish for Michal every Shabbot. We have a son who has a Bar Mitzvah this coming March and plan on participating again and then again in September for another daughter's Bat Mitzvah."
From a recent bar mitzvah:
"If these children are forgotten, some say that history is bound to repeat itself. This exact reason is why this program means so much to me. You might think that if you, just one person, doesn't do anything to remember the Holocaust, it wouldn't make a difference, but it does. Every bit of remembrance, has a big impact on the people all around you, and in turn they will, hopefully, do their part to remember."
A mother writes about a son's response:
"Our son is enjoying having his 'friend', Moshe, in his thoughts. He put the paper introducing Moshe into a frame and set up a little area on his shelf with a book of Jewish thoughts and two Jewish teddy bears (blue and white with Stars of David, given to him by his grandma on Hanukkah in past years). Moshe was only 4 when he was killed so the bears seemed appropriate to him. He's hoping that he can move his little setup to the bimah during his bar mitzvah."
A mother with a personal connection to the Shoah writes:
"This Project has meant so much to our family. Even our youngest son, who is nine, asks us now about our family history. The extended family has really come alive for all of us, and we speak of them almost daily. You have done a mitzvah with the creation of Remember Us."
In his dvar Torah Joshua talks about second chances:
"There is a common point in this week's Torah and Haftorah readings that of being given a second chance. Second chances come in many forms and today, as I become Bar Mitzvah, I have taken the responsibility of remembering a child of the Holocaust who died before he could become Bar Mitzvah. His name is Edgar Venouziou, and I share the bimah and this day with him, symbolized by the empty chair near mine with a tallis on it. …By honoring his memory in this way I hope to help his soul be at peace, and give his life and his spirit a second chance."
An unexpected gift from a mother:
"I was fortunate enough to find a $100 bill on the ground at my daughter's swim meet. After making attempts to find the person who dropped it, I ended up bringing it home with me. While tempted to use it to buy some Chanukah gifts, I tucked it away, hoping I would find the right thing to do with it at some future point. A week later I read about the Remember Us project and was so incredibly moved by the mission. I made an appointment to discuss volunteer opportunities. The night before our meeting I remembered my $100 and knew what the right thing to do with it was. For my daughter's teachers holiday gifts, I donated in their honor to the B'nai Mitzvah Holocaust Project. It seemed fitting to honor teachers by remembering children."
A participant in the program wrote us this:
"Last night I was applying one of the names to the tallit dedicated to one of the lost chldren, and I was in such a holy space, writing this little three-year-old's name, when he had probably never even written it himself. It was really quite a feeling."
This is what Lieba said at a Friday night service:
"For this year I have dedicated my mitzvot to Editke's name. When I feed the homeless every Sunday at O'Bryant Park, and when I planted a tree for Tu B'Shevat I have said her name. Now I will light a candle for her. . . . We found this poem that was written by a relative of Editke named Joseph Mermelstein. I will read to you a section about Shabbat, since the taking on of Shabbat is spoken of in this week's Torah portion and has been my study and consciousness. The Friday night is quiet
No candles, no song
No braided challah or cholent today
Behind a stump of a smokestack
I cannot image how this would feel if it were me, and so I want to remember her."
Becca said this in her dvar Torah:
"Life is full of choices. This portion (Chaye Sarah) teaches us the importance of choices in our everyday lives…For me personally today, I have made the choice to adopt a child from the Holocaust through the organization Remember Us: The Holocaust Bnai Mitzvah Project. This organization assigned me one of the one-and-a-half million children who died in the Holocaust. The girl I adopted was named Rivka Markos. She was born in 1941 in a region of Greece called Macedonia. She was only two years old when she died in the Treblinka concentration camp in March of 1943. Rivkah could not become Bat Mitzvah. I am doing this for her, for me, and for the Jewish community."

"When I adopted Rivka I made a choice, and a commitment to remember her and also to share my knowledge of the Holocaust with other people. In our prayerbook we read:
So long as we live
They too shall live
For they are part of us
As we remember them
Hannah said this at her Bat Mitzvah:
"One of the special things that I'm doing for my Bat Mitzvah is to remember a child killed in the Holocaust....As with all the children remembered by the "Remember US" project, Rochel's name and information has been given to only one Bar or Bat Mitzvah person. I am the only one who has been given and accepted the responsibility and honor of remembering her. I have chosen today's date, May 13, as the date on which I will say Kaddish for Rochel every year for the rest of my life. Our Jewish tradition tells us that after we die we live on in the memories of other people; as long as I remember Rochel, there will always be a part of her that the Nazis couldn't kill.
Blaine's family handed out this card at her Bat Mitzvah: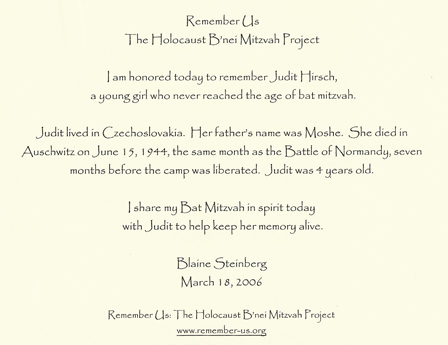 Zachary said this at his bar mitzvah:
"Today I have chosen to share my Bar Mitzvah with Mose Berkin, a victim of the Holocaust…As part of preparation for today, I attempted to learn a little about him. Unfortunately, I found nothing. That fact that there is no record of Mose Berkin stands as a reminder of how an innocent Jew, just 4 years old, was wiped out simply for being Jewish. If he were here today he would be 66 years old, with a wife and children and grandchildren to honor him. Take a moment to think about him and what his life would have been like if he had not been a victim of the Holocaust. As you help me celebrate my Bar Mitzvah, help me also remember Mose Berkin, a fellow Jew who never had the opportunity to be called to the Torah."
Bryan said the following at his Bar Mitzvah:
"One of the most important teachings in Judaism is to remember those who have come before us. Many of us have been named after an ancestor; it is a way to honor our ancestors and make sure they are not forgotten. My Mitzvah Project deals with this important teaching. It also deals with good and evil, and keeping hope, faith and dreams alive.

"I am participating in the Remember Us: The Holocaust Bnai Mitzvah Project. I have taken on the responsibility of remembering a child of the Holocaust who died before he became a Bar Mitzvah. His name is Zoli Berkovits. He was born in the city of Oradea, in Romania. His parents were Helen and Anton Berkovits. In 1944, Zoli died at the age of five, a victim of the Holocaust. In trying to learn about Zoli and his family I have learned to understand that the Holocaust was an ugly experience for Jews and others who were persecuted by the Nazis. The good that came out of this period is that we have survived as a people and my ability as a Jew to keep alive the memory of one five–year–old boy who did not have the opportunity to take on the responsibilities of an adult in the Jewish Community.

"I have chosen to take on the responsibility of remembering Zoli Berkovits as I become a Bar Mitzvah. I have also chosen to take on the responsibility of saying Kaddish for him. I hope that as we all say the Mourners Kaddish today you will keep Zoli in your thoughts. To keep his memory alive I will also be donating books about children of the Holocaust to the Temple library. The inscription in each book will read, "In memory of Zoli Berkovits, Child of the Holocaust, who perished in 1944 at the age of five."
Miriam, an adult having her Bat Mitzvah jointly with her developmentally disabled son, spoke the following:
"…It is because of my parents and relatives being survivors that David and I chose to participate in the "Holocaust B'nai Mitzvah Project." This cause really touched me.

"I ask you to join me in this sacred moment of Remembrance, let our hearts embrace Bertha Itzkowitz, who perished at the age of 13 in Krakow, Poland. Her mother's name was Pauline, her father Joseph. We dare not forget and shall not forget. It is my hope that in remembering Bertha and including her as part of our simcha that her heart will be comforted and her human heritage will be restored. Please encompass her with special tenderness, may she rest in Peace, Amen."
Jennifer wrote:
"I want to take part in the Project because so many Jewish children died in the Holocaust and it is vital for those children to be remembered and for their spirit to remain alive through other children."
Lauren said during her Bat Mitzvah speech:
"In honor of my Bat Mitzvah, and in keeping with the upcoming Yom Kippur holiday, I would like to pay tribute to a thirteen–year–old girl, from Vienna, Austria, who could not celebrate her Bat Mitzvah. Her name was Evelyn Steiner and she died in the Auschwitz concentration camp in 1944… The Empty Seat on the Bimah is a Symbol of Her Presence."
Debbie, at her Bat Mitzvah, said:
"In the big picture, though, I know that I have so many blessings in life –– and I am so fortunate to have what I have –– my family, friends, community, and my ability to practice Judaism as I choose. That is why I want to link my Bat Mitzvah with Ryvka, a young girl who was lost in the Holocaust. Ryvka was a four–year–old Russian Jewish girl who died during the Holocaust before she had a chance to show God what kind of Jew she could become. Ryvka's time was too short. It is now my honor to make the most of my time and do the things that she would have liked to do, but could not. It is important to remember things like that and think about them once in a while. Maybe we can stop such horrible things like that from happening in the future if we keep people like Ryvka in our minds."
On Lily's Bat Mitzvah program, she wrote:
"On this day,
we lovingly remember Lily's grandparents,
Jerome, Jean and Herbert
and
Jadia Szarf who died during the Holocaust"
Daniel, at his Bar Mitzvah, said:
"This last candle is a special one. It is in honor of Adam Ungar, a Polish boy who was not able to have the privilege of becoming a Bar Mitzvah. He was born on October 27, 1930 and was killed not even 13 years later on October 15, 1943 during the Holocaust. This candle and this day are dedicated to him and in his memory."
Dana's Mitzvah Project (excerpted from her Bat Mitzvah Program):
"The theme of Dana's Mitzvah Project is Holocaust remembrance. Dana has reached out to numerous Jewish nursing homes and senior communities throughout the United States and Canada, and donated to their libraries a copy of her grandfather's Holocaust-era novel. Additionally through the "Remember Us" program, today Dana is honoring the memory of a young girl who perished in the Holocaust before reaching Bat Mitzvah age -- Madeleine Berneman, who was taken from her home in Paris and died in the Auschwitzconcentration camp at age 11."
From a mother of twins:
"I was incredibly touched and moved to receive your e–mail with the names of a brother and sister, Shalom and Sara Novopruzki, from Poland who perished in the Holocaust before the age of Bar/Bat Mitzvah. I have shared the info. with Alex and Carly and look forward to the profound spiritual/educational experience they will gain as they prepare for their B'nai Mitzvah. It is especially meaningful because Carly's Hebrew name is Sara, and she was named after my maternal grandmother whose name was Sara and whose life began in Poland, as well. Her husband, my maternal grandfather, lost his parents and most of his siblings in the Holocaust. Thanks to you and your team for this important, life changing opportunity!"
Jason, during his Bar Mitzvah speech, said:
"When the Allied Forces — including my Grandpop Bernie — defeated the Nazis, they found warehouses of Jewish items that were to be put into that museum. A foundation was formed to try to get the Torahs from the lost synagogues back into use. My grandparents acquired one of these Torahs and donated it to our synagogue in honor of their 50th wedding anniversary. It came from a synagogue in Czechoslovakia. The synagogue was destroyed. But this Torah was saved. Here at Main Life Reform Temple, it was refurbished and returned to a place of honor in the synagogue's Ark…

"As I become a Bar Mitzvah this evening, I do so in memory of a child named Yosef Weinberger, who died in the Holocaust. Yosef lived in Hungary with his father, Menakhem. He was 10 years old when he was killed in Auschwitz on June 13, 1944. Yosef was never able to become a Bar Mitzvah. By honoring his memory in this way, I am again carrying our Jewish traditions from one generation to another…

"On this important day, I promise I will try my best to reach my goal of being a good Jew, but even if I don't completely succeed, I hope I will be remembered for the good that I do along the way. That is the legacy that I hope to leave to the generations that will follow me."
Hannah said the following at her bat mitzvah:
"I related my Tikkun Olam project to my Torah portion. My Torah portion talks about not leaving anyone behind. I was given the opportunity to be part of a program that remembers children that died in the Holocaust. The child that I was assigned to was named Sorela Goldsobel. When she turned five, both she and her family were sent to live in a run-down area of a city in Poland where over 275,000 people were forced to live in apartments on 73 streets. Food was very scarce and many died of starvation. After two years of living in the ghetto, Sorela and her family were sent to a death camp in Treblinka. Sorela will be in my thoughts throughout my Bat Mitzvah, which will help her soul be at peace, and in that way, she will not be left behind."
Jeff, a parent said:
"This is a great program for the children, and my son is excited to be part of it."
Children made this for their Bar/Bat Mitzvah:
"Thank you for providing my children with this opportunity. It was very meaningful. I've enclosed a picture of the poster board (below) Mia & Caleb made about your project. In addition, they spoke about it and their Holocaust victims in the covenant they presented to the congregation."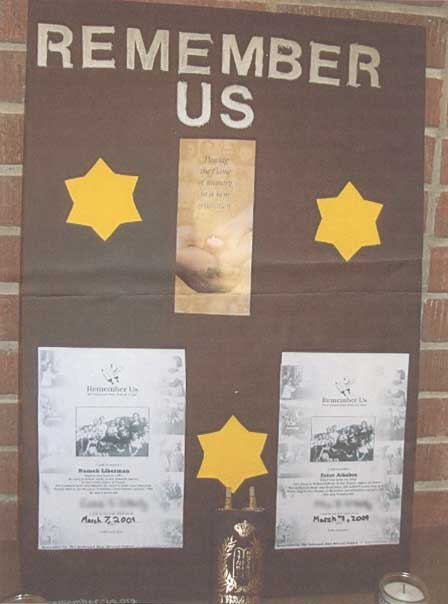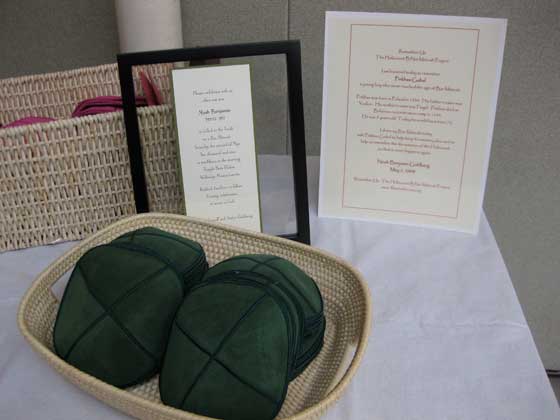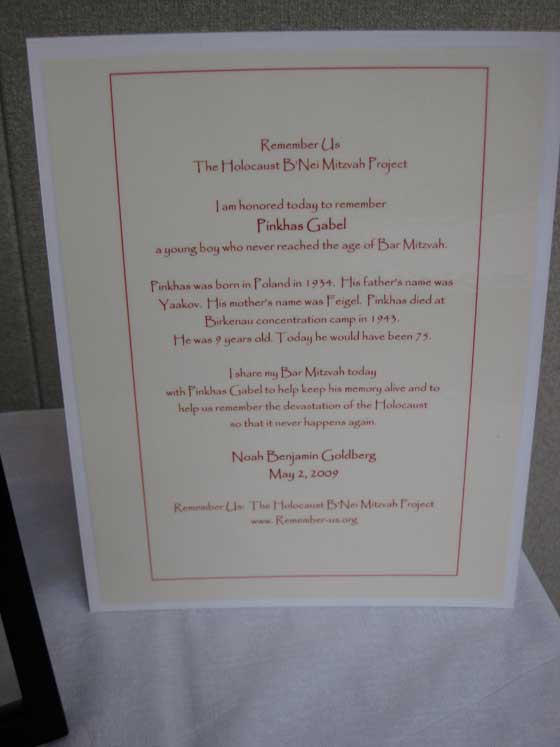 A late request leads to a meaningful moment
"I found your website less than a week before my sons Bar Mitzvah doing a random web search looking for something else. I was so moved by what I read. I emailed you for a name, thinking that even if I received a response before our Bar Mitzvah, my family, our temple, etc. would think I was crazy to try and add something 'new' to what we were doing just days before the service. But I received a name immediately and showed my son and our Rabbi. My son was very interested and my Rabbi thought it was a great idea too. We are not required to do a mizvot project at our temple so this wasnt to fulfill a requirement. Our Rabbi asked me to forward him your website, and at the service he made a brief statement about your organization. This is what my son said: 'I am honored today to remember Efraim Rozenkranc, a young boy who never reached the age of Bar Mitzvah. Efraim was born on November 14th, 1937, and lived in Lodz, Poland. His mother's name was Temera; his father's name was Shmuel. Efraim died in the Holocaust when he was 6 years old. I share my Bar Mitzvah in spirit today with Efraim; to help keep his memory alive. Please join me in this sacred moment of remembrance.' Thank you so much for giving us the opportunity to do this."
Return to top